Freshwater Phil online
Home page
My Fishing Blog
My Fishing Videos
Links
Contact Me
Recommended
Montreal fishing guides
Montreal fishing spots
Fishing trips/outfitters
Memorial for my Dad obm
Charity bounty program
Species
Bass
Carp
Channel catfish
Musky
Northern Pike
Perch/panfish
Sturgeon
Trout/Salmon
Exotic species



Welcome to my web site, Freshwaterphil.com. I'm just another fishing addict, living in Montreal. Like thousands of serious anglers, I'm passionate about my favorite pastime, and love to share tips, tricks and information with anyone from amateurs to professional fishermen.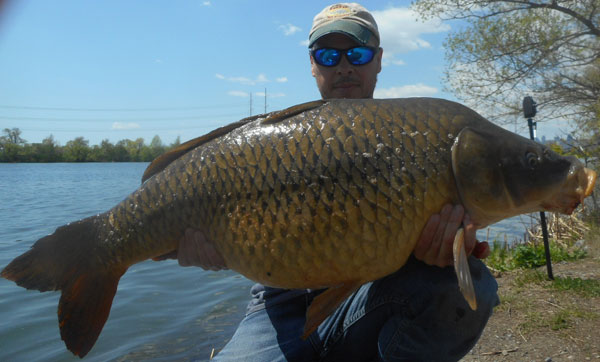 I live in the city of Montreal, which is in the Canadian province of Quebec. Canada is blessed with millions of lakes, rivers and streams, there are a few hundred thousand in Quebec alone. Living in Montreal, which is located in the Southwestern section of the province of Quebec, I also have the privilege of fishing in Ontario quite often, occasionally New York and Vermont as well.

I've been fishing since the age of 3, but only got into serious angling in my twenties, when I started having children. Today, my kids share my passion for sport fishing, I try to take them along as often as I can.

As Montreal is an island, I typically fish Montreal's surrounding waters of the St Lawrence River (Lac St Louis, Lac St Francois) and it's tributaries, as well as the Outaouais River (Lac des Deux Montagnes) and the Ontario portion of Lake St Francis (St Lawrence River). All are less than 1 hours drive from Montreal, great places to fish, and home of some of the hottest bass, musky, carp, and sturgeon fishing in this part of the country.

I consider myself a multi species fisherman. Whether I'm casting topwater lures for a early morning or evening bite on a calm lake, still fishing with boilies or soaked corn for carp, trolling for walleyes/muskies or night fishing for channel cats, their is nothing more that I enjoy than the soothing / calming effect of the water, interrupted only by the adrenaline rush of a hookup and the ensuing battle.

I spend a lot of time researching fishing related ideas online, and have many friends in the industry, ranging from professional fishing guides and outfitters to tackle dealers to bloggers and other members of the online fishing community.

If you're looking for a local fishing guide in the Montreal area, click here to view my recommendations.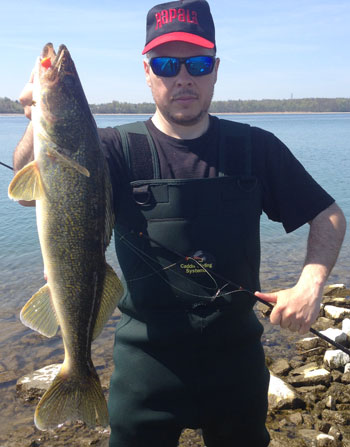 Shore fishing
Shore fishing is one of the most relaxing and economic ways to fish. Shore fishing is often overlooked by many fishermen, especially fishermen looking to catch big numbers of game fish / predatory species. Depending on the species targeted and the season, effective methods are casting, jigging and still fishing. The key to good shore fishing is to try many spots during the course of a given season. Eventually, you'll figure out which spots produce best at which times, greatly improving your success ratio. Shore fishing is also a good way to meet other anglers that fish the spots, possibly share tips and experiences with them. While many lakes or remote waterways don't offer much shore fishing access, the rivers and waterways around Montreal do. Hundreds of kilometers of fishable shoreline, much of it accessible by foot, bike, public transit or car. Shore fishing is ideal for short outings when hauling, launching and landing a boat isn't feasible, and also great if you're going to be fishing with young kids that may get restless sitting in a boat for too long. I've many big fish from the shore, and know many others that have done so as well.

If you're looking for good shore fishing spots around Montreal, I suggest you get a copy of my shore fishing guide by clicking here.


Boat fishing
Fishermen have been using boats to catch fish for thousands of years. Having a boat to fish from allows the angler to access fishing hot spots as long as the water remains fluid. Up until a few years ago, fishing from a boat remained quite simple. Modern fishing boats come with a wide array of accessories, geared towards improving the total fishing experience. From high powered engines that will get you from spot to spot in no time, to trolling motors that allow you to silently work a shoreline. From sonars / depth finders that allow you to see the bottom (and fish) to GPS units that allow you to mark you hotspots or plug in a pre-programmed lake map. Many fishing boats cost more than the cars or trucks that are hauling them around. The waterways around Montreal offer almost no boat rental opportunities. Many dedicated fishermen here own their own boats. With a river the size of the St Lawrence, the fishing possibilities around town are overwhelming and virtually endless. Finding good spots and techniques that work can take years for an un-experienced fisherman. Whenever I hear of a fisherman having trouble catching a given species with his boat, I suggest hiring a fishing guide for an outing or two. For a fraction of his (or hers) yearly fishing budget, they can eliminate a huge amount of guesswork and wasted time. I know some very good guides that can put people onto trophy fish, as well as teach them techniques and show them many local fishing hot spots.

To view my list of recommended fishing guides, click here.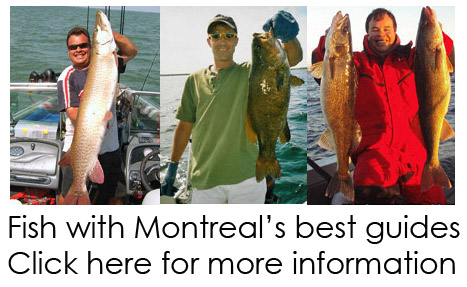 Alternate access methods
While shore fishing and boating are well suited to waterays with public access, there are countless more river and remote lakes in Quebec with little to no public access. These lake and rivers are often full of fish, and offer some of the best fishing opportunities to those willing and able to fish them.Small streams and river are usually best accessed in waders. A good pair of neoprene waders can keep you warm and dry in the most frigid waters, and also protect you from leeches in areas where they exist. Pack as light as possible, and use a backpack to allow for hands free fishing.

Many of the more remote lakes don't offer much shoreline access, and more often than not, wading opportunities are very limited. This is where various type of small, personal watercraft come into play. Depening on the size of the waterway and ones fishing style, float tubes, inflatable pontoons, fishing kayaks, and small jon boats are typically light and portable enough to get to those hard to reach spots, where bigger boats have no access points. My personal choice is the float tube, which allows to to trekk long ways through forest paths, rocks, and even steep hills to launch. Not to mention a very good low impact workout during every outing.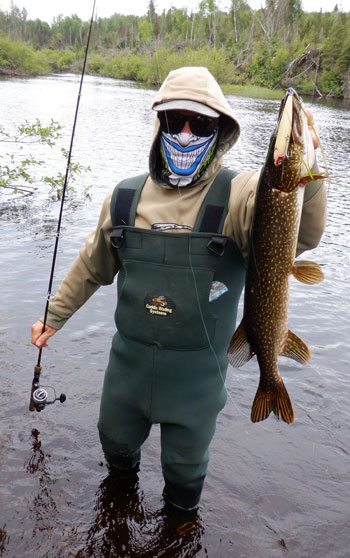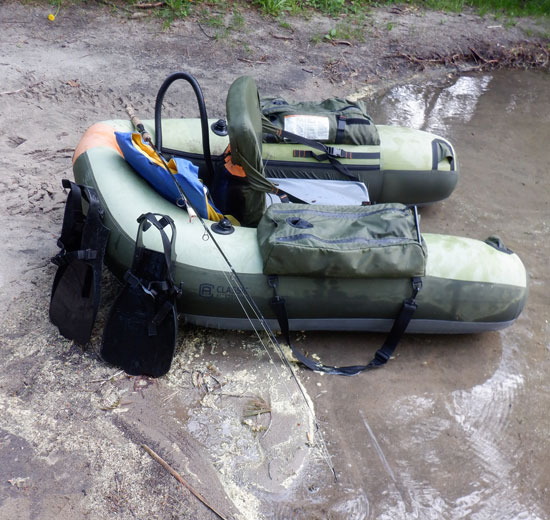 Ice fishing
Ice fishing is the by-product of our long Canadian Winters. When November comes around, the cold North winds start to blow, the heavy rain cools the water down, the fish start getting lethargic, and most spot fisherman start going though withdrawal symptoms. Although some lucky / wealthy fisherman can afford to go south for the winter, most of us a reduced to eyeing the goldfish in the aquarium, when the thoughts of minnow hooks start to let you know that you're really about to lose it. Ice fishing is quite different to open water fishing, but it can actually help anglers survive the 4 months that most of our waters are covered by 3 - 4 feet of ice. I started off ice fishing at outfitters, as they provide shelter, bait, hole drilling and access to thick/safe ice for extremely low rates (especially on weekdays). They stocked small lakes with decent sized trout (10-12 inches), which are a blast for the kids, and make for great shore/ice lunch. I eventually graduated to ice fishing other waterbodies, mainly for perch, pike, bass and walleye. Ice fishing allows me to fish lakes that I wouldn't be able to access during the open water season, which is an added perk. When ice fishing, a pair of warm waterproof boots is essential, and a good snowsuit or insulated flotation suit helps too. A gas auger really makes it easier if you plan to drill more than a dozen big holes through thinker ice, otherwise a manual auger is a lot lighter, and quite a workout for those of us that enjoy keeping in shape. Over the past few seasons, I've been spolied with my Ion G2 electric auger, which is powerfull enough to drilled dozens of holes though thick ice, yet light enough for me to easily haul around the ice on foot. Polar tip ups are efficient for still fishing, but ice fishing rods are more fun to vertical jig with the help of a flasher.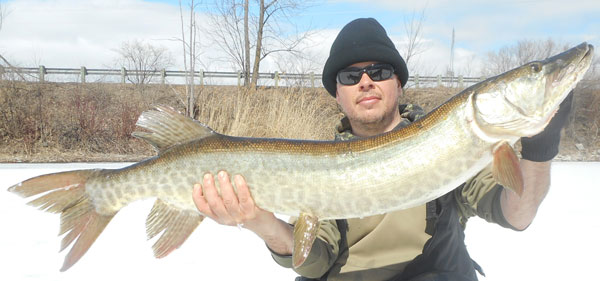 Fishing spots around Montreal

Montreal is surrounded by excellent places to fish. If you have a boat, anywhere on Lac St Louis, Deux Montagnes, St Francois or Riviere des Prairies will do.

I compiled a detailed list of Montreal's most popular shore fishing spots which include some of the well known public fishing spots around Montreal, into a detailed shore fishing guide.

My fishing guide contains accurate Google maps to each fishing spot, as well as information on when to fish it, how to fish it, access points, and some pictures.

Species include Bass, pike, walleye, perch, carp, sturgeon, channel catfish, and for those of you with young children, panfish such as perch, sunfish and rock bass.

Click here for details.



Fishing tackle shops around Montreal
Most of these spots sell bait, tackle, and fishing licenses.
Montreal East
B&L sport on St Catherine Est - (514) 525-5354.


Montreal West and suburbs
Lachine bait and tackle - Blvd St Joseph - (514) 634-9250.

Lauzon Chasse Peche - 2nd Avenue Ile Perrot - (514) 453-5018.

CR Sport - hwy 20 Dorion - 450 424-4171 - boat rental as well, probably the only spot to still operate a fishing boat rental and rent boats around Montreal.





Quebec fishing resources
Quebec fishing regulations
Quebec sport fish consumption guide (French)
Quebec freshwater fish species list (French)


Ontario fishing resources
Ontario fishing regulations
Purchase Ontario fishing license online
Ontario sport fish consumption guide